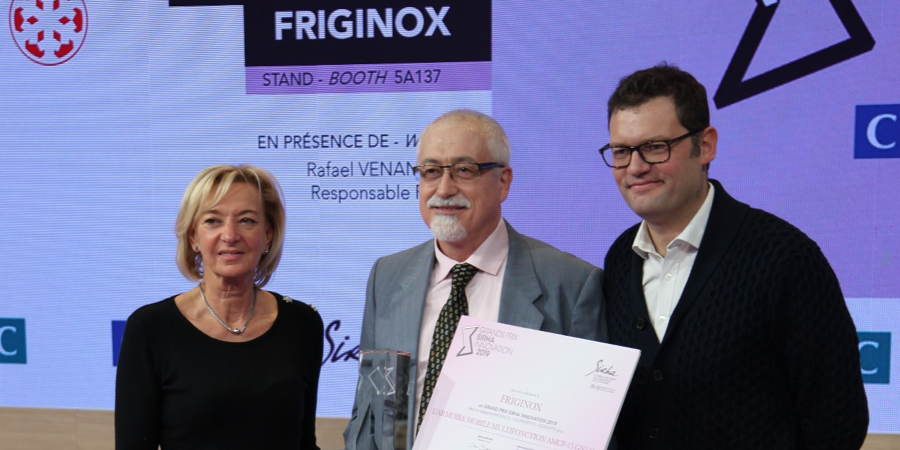 You will probably never have heard of Friginox, nor about the group it belongs to, ALI. And unless you were born in the area, you probably never visited Villevallier, the small town nestled up against the Yonne river where Friginox has a 10,000-square-meter production site. Yet, this company – which supplies equipment to restaurants and hotels – recently won a Sirha Innovation Award for its latest design: a catering cabinet that can maintain food at constant temperature during transport and service.
It may not seem like much to those not working in the industry, but the great innovation of this cabinet on wheels is that it is very flexible and can handle both hot dishes (up to 80°C) and cold ones (as low as 1°C). Previously, customers who needed to store both hot and cold dishes would have to buy two cabinets.
I never pass on an opportunity to see a real example of improved flexibility, and this is the reason why I am now meeting R&D Manager Rafael Venancio in Villevallier. I am curious to learn whether the design of the new cabinet was influenced by lean engineering. I am also eager to find out about Rafael's participation in the Lean Engineering Academy, a France-based group of lean engineers engaging in product design and development. (This community, created, supported and coached by Michael Ballé and Cecile Roche, was started in 2010 with the aim to learn and run experiments on how lean can boost engineering and bring more value to customers. Members host the group in turns, spending the day on the gemba and experimenting as a team.)
---
DESIGN FLEXIBILITY AND CHALLENGE WITH TAKT
Upon greeting me, Rafael explains that Friginox is a leader in the French market of large equipment for catering. "We wanted to try our luck with smaller equipment, with one concept in mind: promoting flexibility, as this was a request from our major customers, while keeping things simple," he tells me.
Friginox had already tested the concept on a small table container that provides both quick cooling and hot holding functions. Unfortunately, the model didn't sell too well, because this kind of small table equipment is not Friginox's usual line of business and the company was priced out of the market. What they earned, however, was the experience and the confidence they needed to get started with a new multi-function product range.
"We have always used professional exhibitions to give us the takt time to release new, ready-to-sell products. But in May 2017, we changed our approach and decided to introduce the prototype of a new range of multi-function products and to stick to the deadline of October 2017, when the next Exhibition would take place," Rafael says, as we put on our safety shoes and move over to the shop floor.
Eighty people work at Friginox, and only four of them in the R&D department. The engineering team can readily test our designs and prototypes or confirm assembly issues together with the production team.
There are three workshops in the production area:
One receives the sheets of stainless steel, punches them and folds them into forms (sides, partitions, boxes, doors, tanks, etc): machines here are rather multi-purpose and work on production orders.
The second one injects a polyurethane foam in the equipment housing to ensure insulation: while certain large flat panels are handled by a dedicated machine, more sophisticated shapes are injected on a make-to-order basis, in machines designed for that specific shape.
The last workshop is where (manual) assembly takes place: here, doors, locks, electrical and cooling elements, cabling and control commands are made to order.
Rafael says: "The big change we brought into this last workshop is the picking that is prepared ahead of each assembly and dispatched to each of the workstations. This way, the operator will have everything at hand as he works." Although it is not the purpose of my visit, it's nice to hear Rafael confirm that the new approach largely reduced work-in-progress on the shop floor.
---
USING SET-BASED CONCURRENT ENGINEERING
What Rafael wants me to see is the second workshop, where foam is injected: "One of the key lean engineering concepts we used is the set-based approach. When we started designing our new product in May 2017, we decided to study different options to perform the foam injection. Should we do it panel by panel? Should we do it as one complete shape? In this case, would we have to design a dedicated injection press? These were some of the questions we were trying to answer."
As our investigation continued, it looked like each option would impact the design of the product itself. Each had its advantages and downsides. The team tried to keep their options open as late as they could, but when the October deadline for the functional prototype got close, they decided to go for the safest option – the panel-by-panel injection – although the small size of the cabinets made the handling and finishing harder in the big press.
The concurrent design of the industrial tool and the product itself is not new to Rafael, as the choice of the foam injection tool severely impacts the product options. Keeping options open as late as possible, however, was. They used the same approach for a number of key changes they wanted to bring to the new cabinets, beyond the hot-and-cold multi-function:
Should they stick to their standard door lock or design a "signature" lock? One of their lock suppliers took the challenge but then failed to design something reliable ahead of the Exhibition where the prototype would be launched. (By the way, sticking to known standards is also very lean.)
Given the short delay, should they target a product range of models of different sizes or just present one model at the Exhibition? They wisely decided in the end to present only one model, but they see their investigation of a product range as a major step forward. Components, such as the thermoblock (the hot holding device), have already been designed to fit any other model of the future range. If they had not designed with a range of products in mind, the selected options may not have suited the future models.
Should they have the thermoblock at the back or below the cabinet? Should the loading of the catering bins be done through the width of the trolley or the depth? Would their standard magnetic seal fit the hot-and-cold multi-function or would they need to find a new seal for the door?
Rafael confirms: "This really was a major change in our design method, both thanks to the takt time we gave ourselves – we wanted to be ready for the Exhibition, no matter what – and to the set-based approach. In hindsight, I can tell that we tried to embrace too many changes at once and this is a lesson learned for the future. Lean engineering is a conscious choice between what will change and what will not in the new model, which known standards should be used and which knowledge gaps should be addressed. That being said, until then, we had never been able to study and finalize such a high number of changes in the course of just five months. Whatever part was to be incorporated in the prototype, we knew we would be able to produce it in serial life. In fact, what we presented at the Exhibition in October 2017 was closer to a pre-series than to a mock-up."All the options were studied and the list narrowed down – most of it ahead of the Exhibition, where Friginox presented the first functional prototype of the new product.
The use of set-based concurrent engineering had two main implications for Friginox. First of all, the supply of components was launched much later than usual, as a result of keeping options open. However, a thorough monitoring of orders and a good partnership with suppliers enabled the company to be ready and on time. Secondly, when you work to takt time and want to test options, you can't wait for problems to appear: you have to go and actively look for them. (You end up thinking carefully about what could possibly go wrong – "good products come for good thinking", says Toyota.)
---
LEARNING WHAT THE CUSTOMERS VALUE
For Friginox, the October 2017 Exhibition was the first time showing up with a prototype. Up until then, they had considered such occasions as an opportunity to sell and pamper customers, rather than gauge people's potential interest in new products. This time, they had face-to-face discussions with potential buyers about the prototype, which helped them refine the product based on what customers truly value.
Rafael takes me to the R&D office, where a board is dedicated to both the problems the department has stumbled upon and those it had anticipated. There is nothing fancy about it, but it represents a thorough attempt to list the issues (yellow post-its) for the three major topics the company is concerned about: safety, functionalities and mechanics. The visual board displays all kind of concerns with the prototype – assembly, usage, reliability. It is quite empty now, but over the course of 2018, as Friginox refined the product and moved towards serial life, each yellow post-it note in turn carried pink, blue or green notes. Pink (they could not find red ones) represents problems the department doesn't know how to solve; blue stands for sticky issues for which the department is trying something out; green refers to situations the department knows what to do about, but that were delayed due to other activities.
One way to anticipate problems and possibly find solutions is to tear down competitors' products. The R&D team bought two such products and thoroughly studied their strengths and weaknesses. By doing this, they discovered Friginox was behind their competitors in the steam moistening for the heating function. They worked hard to close the gap, to the point they now believe they have overtaken the competition (they are still closely monitoring their solution, though).
The analysis of the competitors' products also revealed there were a lot of opportunities for Friginox to do better than its competitors when it came to the handles used to move the cabinet around and the securing of external accessories (the water collection tank of one of the competitors' products, even though it was beautifully designed, regularly fell off during transport or even while standing still).
Friginox had performed competitive tear-downs before, but the Lean Engineering Academy clearly pushed them to perform it thoroughly, to challenge options or try out new ideas. "Discussing the prototype with customers and tearing down competitors' products helped us understand where we could increase the value for our customers," Rafael confirms.
In fact, as we discuss, I remember the "doctrine" the Chief Engineer of the first Toyota Corolla established on delivering a successful model. He called it an "80-point + Alpha approach": 80 basic elements that can't be missed and a plus, an Alpha, that would delight the customer. "Aren't those yellow post-its on the board the 80 points that can't be missed, Rafael?" I ask. As he nods, I continue: "What would your Alpha be, then?"
Rafael smiles, and explains: "The obvious Alpha is the multi-functionality, the possibility to use the cabinet both for cooling and maintain hot dishes at temperature. This is really new in the market. But we also tried to keep the control command very simple: all you need to switch from one function to the other is the push of a button, whereas our competitors require the user to switch on, then select function, then validate, and so on. That's certainly the first competitive advantage."
But there are more pain points in the usage of the cabinet that the new design takes care of:
The water that accumulates inside the trolley as a result of condensation on the door seal used to trickle down and eventually make its way to the carpet floor of VIP restaurants. The team worked on it and came up with a way to collect the water at the bottom of the door. Competitive advantage number 2.
Cabinets like this one are typically equipped with racks, which must be removed in order to be properly cleaned. The slides on which the catering bins rest have been completely re-designed both to avoid deformation under heat or cold (which caused the racks to become stuck) and to offer an easy cleaning (stamped walls rather than metallic slides). Here's the third competitive advantage Friginox's new product enjoys.
Rafael comments: "This is really something we improved thanks to the Lean Engineering Academy. Before, we would have considered an 80% OK score on usage issues good enough, as our competitors do." But Friginox now targets 100%, and the alpha for each new major release. The big change here is that new products are now designed to make life easier for the end user, not just to sell the product.
Lean theory makes sense, but it is not so easy to stay true to it. The real challenge is keeping up the "good thinking" every day, with daily delivery targets overwhelming you. Indeed, Rafael confirms that he and his team have learned to sit down and think every time "something weird is going on". They might not yet have reached the stage where they love problems, but they are at least looking for them actively instead of running away from them!
The company launched production and sales of the new cabinet in mid-2018 and decided to put forward the product for the 2019 SIRHA Exhibition innovation contest. In December last year, they were asked to present the product in front of a jury of 10 experts. The next day (during a Lean Engineering Academy session), they found out they had won the award.
The cabinet product is now on sale, but the tests haven't stopped. "Tests, whether on ageing or repetitive usage have always taught us plenty, including things we were not looking for," Rafael says. One such test aimed to see what would happen if the cabinet operator used tap water rather than soft water for the steam moistener. Sure, with tap water the cabinet doesn't work, but the team has learned the effects of this usage and can now use this knowledge to diagnose issues faster during after-sale servicing. In the process, they also detected some flaws in the sealing that were then corrected.
---
THE NEXT EXPERIMENTS
So, what will the team try out next?
Rafael shows me a recently-completed concept paper for a new design they are working on. It includes a classical "what, for whom, when, at which target cost", but also a list of critical performances the product can't fail, what it will compete against, what will not change from previous models, and what knowledge gaps need to be filled.
"I had not used a concept paper for previous projects, including the hot-and-cold cabinet, but it turns out it's an excellent tool to clarify what we want to do. Before putting the concept paper together, I thought we all agreed on the target of the current design, but this turned to be much less clear than we thought," Rafael admits.
Another thing he plans to do is to visit customers in their own facilities to see and discuss usage problems. He plans to change the way expectations are captured, by introducing a discussion on trade-offs. For example, customers prefer moving food around in plastic crates (easier to handle than grids), but the time to cool or freeze the food will in that case be longer or require larger and more powerful devices. Where do they put the cursor between "time to cool or freeze" and "small-size equipment"? Based on that, a QFD matrix could be built that will compare customer expectations with the functionalities that are built into the product (a great opportunity to check what is really needed or what is not, and what is critical because it is meeting many of customer needs).
Rafael concludes: "We have learned a lot in this Lean Engineering Academy. But, as always in lean, we have to introduce one new experiment at a time if we are to truly gauge the impact of each individual action we take. If we try too many things at once, it will be hard to learn from our results."
---
---
THE AUTHOR
Catherine Chabiron is a lean coach and a member of Institut Lean France.